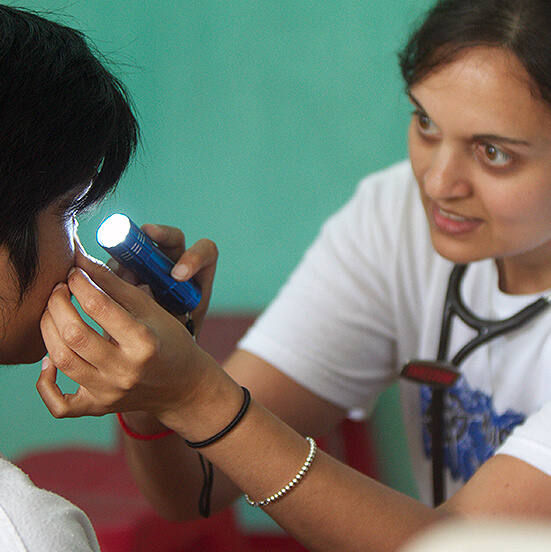 Giving Back Helps
Advance Us All
For over 140 years, Lilly has maintained a commitment to be a responsible global citizen — in large part through volunteerism and philanthropic contributions. Our employees devote time, resources and expertise to advancing health and improving lives.
Engaging Our Communities
As a company, we actively encourage our employees to volunteer and give. We develop programs that help them serve their communities at home and abroad. This investment more deeply connects us with the people we serve and helps spark new ideas about how we can make life better. We offer many opportunities to engage with our communities, including:
Connecting Hearts Abroad
Since its launch in 2011, more than hundreds of our employees have served as Connecting Heards Abroad ambassadors, volunteering for two weeks of paid leave in some of the world's most impoverished communities. Our Lilly volunteers are providing hands-on support in four categories:
Health care
Caregiving for children and the elderly
Teaching
Community development
Lilly Global Day of Service
Since 2008, every October our employees, spanning nearly 60 countries, participate in a day of giving back, joining together in a single, coordinated effort to improve the neighborhoods and communities where they work and live. To date, Lilly employees have contributed 1 million volunteer hours to different projects, making our Global Day of Service one of the largest single-day volunteer programs in the world.
Stay Connected
Job Alerts
By signing up for job alerts, you'll be the first to learn about opportunities that could be a great fit for you via periodic email updates.
Sign Up
Join Our Talent Community
Share a bit about yourself, such as the career area you are interested in. We will then reach out to you when the perfect position is available!
Sign Up