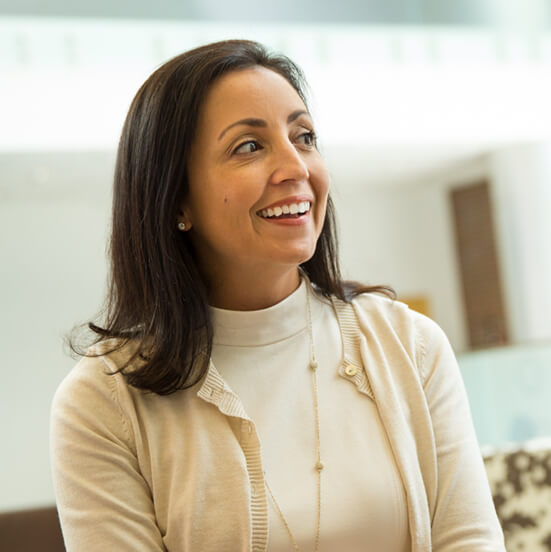 Explore Your Options
and Opportunities
As one of the oldest continuously operating companies in the United States, we are proud of all the innovative work we've accomplished for the last 140 years to improve global health. We are looking forward to an even more successful future in which continued innovation and contributions from top talent in all areas of our organization will be critical. Explore our career areas below.
Our Career
Areas
Business

Business professionals thrive in our innovation-driven culture. Lilly offers career opportunities in all corporate functions, offering the opportunity for you to apply your skills and expertise across many areas of our organization — from commercial operations to legal support. Our strong business team is proof of the tremendous satisfaction that comes from knowing your contributions ultimately improve the lives of others.
Marketing:
At Lilly, we create innovative marketing solutions to maximize our value while providing products that improve the lives of people worldwide. It's all about creating the message and getting it into the right hands.
On our marketing team, you will collaborate to craft our unique message, providing critical information to our clients and medical professionals. By leveraging customer insights, your unique background, and extensive marketing tools, you will be in a position to make a significant impact at Lilly and on the patients we serve.
Finance:
Our finance team is involved in every part of Lilly's operations — influencing and driving the key financial and business decisions that keep our business growing. You may execute core finance processes at a corporate level or provide strategic support to one of our business units.
HR:
People are our greatest asset. This makes the job of human resources critical to the success of our company. When you join our HR team, you'll be improving our bottom line by supporting efforts to recruit, develop, and retain great people and enabling them to succeed. As your career with Lilly progresses, you will develop your skills through a variety of job assignments in employee relations, HR services or strategic support.
As a business professional at Lilly, we empower you with a wide range of opportunities to determine your career path.
Engineering, Manufacturing and Quality

Our entire mission is based upon helping people live longer, healthier, more active lives. By channeling your unique set of skills and talents into a career in Engineering, Manufacturing or Quality, you'll play a vitally integral role in helping us focus on and accomplish that mission every day.
Engineering:
Our engineers design and develop the facilities and processes that keep our researchers at the cutting-edge of the pharmaceutical industry. From our industry defining laboratories to our manufacturing facilities and beyond, our diverse engineering force keeps us state-of-the art.
Your engineering career will be defined by choice. You can choose a technical career path, designing operational infrastructure throughout our company. Or you can pursue an administrative career where, amongst other things, you will develop business strategies that improve our bottom line. Whatever path you choose, you will grow our business by providing real solutions.
Manufacturing:
Use your skills to improve the lives of others in an innovative environment. Your contributions to our manufacturing team will help us grow our bottom line while you develop your skills through hands-on training. Your talents will provide you with a number of options for moving to new opportunities throughout our organization.
Quality:
Our values drive us to exceed customer expectations on all fronts. One of those expectations is to maintain the quality of our portfolio. We must ensure that regulatory expectations are met and that our standards of excellence are maintained at all times.
Join our quality team, and you will be an integral part of our production of life-saving and life-improving drugs. From development, intermediate scale-up, and large-scale manufacturing to parenteral and dry products packaging and purchasing raw materials, you will oversee quality every step of the way. We're looking for people with degrees in chemistry, biochemistry, pharmacy, microbiology, engineering or a related science. We are also seeking quality assurance or control experience.
Information & Digital Solutions (IDS)

As a member of our IDS team, you'll operate in a collaborative, supportive setting leveraging projects that impact Lilly's business of improving the lives of patients. Technology continues to transform every aspect of society, including health care. At Lilly, we view digital as an extension of our medicines, and our IDS team is committed to exploring how the next generation therapeutic ecosystems and connected solutions can transform the customer (patients, health care providers and payers) experience, demonstrate value and most importantly — improve patient outcomes.
Our IDS professionals have a unique cross-functional view of the organization. They drive business outcomes through operational support, solutions and services, connecting people to people, people to information, and people to processes — ultimately allowing us to deliver world-class medicines and improve global health.
Here, your perspectives will play a strategic role within our global enterprise. The knowledge you offer will drive business success and create intense capabilities throughout our value cycles — from discovery to sales and marketing. By launching a career at Lilly, you will have the opportunity to make life better for people around the world.
View our IDS full-time PDF to learn more about our technical capabilities and potential work you can do partnering with our business units.
You can also learn more about our IDS student opportunities.
Medical

Since our founding by Colonel Eli Lilly in 1876, we have pioneered medical breakthroughs such as human insulin, the polio vaccine, and many other patient-focused therapies. Across the globe, Lilly has developed productive alliances and partnerships that advance our capacity to develop innovative medicines.
We're committed to improving global health. This commitment requires the skills and expertise from various medical disciplines. As a Medical Professional here, you can apply your scientific training, clinical expertise, and experience to make life better around the world. Whether you are a Medical Science Liaison or a Physician, there are opportunities to apply your talents to help people live longer, healthier, more active lives. Explore opportunities with Lilly to work in key areas of our business from Early Phase Research to Medical Affairs to Translational Medicine — there are many options for Medical Professionals, and you can determine your path to improving global health.
Sales

Our sales team delivers vital health care solutions to people in need around the world. As a world-class company known for its innovative medicines, we are dedicated to ensuring these needs are met through creating positive experiences for our customers. In our culture of innovation, teamwork and professional development, you can expect great things today and in the future.
Sales positions at Lilly offer a path to positively impact people's lives, while enhancing your future with solid training, professional experience, and an exceptional benefits package.
Your job at Lilly is to listen to our customers, help them understand our portfolio of solutions and deliver greater value than our competitors. As a member of the Lilly sales team, you can rely on our reputation, our products, and on Lilly to provide the support you need to continually exceed expectations in all aspects of your position.
Science

This is where it all begins — where the products that help improve the lives of millions are discovered and developed. Science professionals are the backbone of our company.
Working in our state-of-the-art facilities around the world, you will help develop the breakthrough medicines of tomorrow. At Lilly, we are focused on speeding the delivery of new innovative medicines to patients; as a result, we have launched the "Innovation Starts Here" global initiative. Innovation Starts Here fosters innovation and quality science through the institution of internal and external programs designed to enhance basic science, harness innovation, and aid in the discovery and development of innovative new medicines for patients worldwide.
As a result of our focus, Lilly currently has one of the strongest mid-to-late stage pipelines in its history. For additional information on our pipeline: https://www.lilly.com/discovery/pipeline
We are looking for intellectually-driven people who share our values to join our science and clinical team. You will be a creative innovator and thinker whose research can improve the lives of millions. We offer unique opportunities to capitalize on the pioneering spirit that is a part of our 140+ year heritage. Although we have enjoyed many successes, our greatest legacy is the millions of lives that are impacted by our continued focus and drive.
Stay Connected
Job Alerts
By signing up for job alerts, you'll be the first to learn about opportunities that could be a great fit for you via periodic email updates.
Sign Up
Join Our Talent Community
Share a bit about yourself, such as the career area you are interested in. We will then reach out to you when the perfect position is available!
Sign Up